Joined

Feb 3, 2008
Messages

2,259
Points

48
Admittedly, I have been out of the ukulele game, in earnest, for a while; in the past few years, there has been little leisure time between the responsibilities of work and school. I might have averaged 10 minutes of ukulele-time a week--sometimes going weeks on end without playing at all. But the new ukulele I was lucky enough to purchase in the Marketplace took me in the way-back machine, and I couldn't help but to take some time to reflect and share.
I started playing the ukulele in winter 2007. That's right around when UU was launched--and I was among the earlier members. Aldrine Guerrero was the guy who taught me how to play from the very basics in the Sunday Morning lesson on IAmHawaii.com. So when he founded Ukulele Underground, promising more of the same great content, I followed. Looking back at it, Aaron Nakamura and Ryan Esaki were actually rather avant garde in producing video lessons for ukulele and putting them online--this was before YouTube was a mainstream phenomenon. Nobody else did online ukulele lessons, so their work on IAmHawaii.com was a true online gem. Without the lessons put together by Aldrine and the team from Kauai, I would probably have quit the instrument before I could even really get into it.
The first time I met Aldrine was at Ala Moana Park in an impromptu UU get-together. Turned out that we had some mutual friends, and I'd end up hanging out with him many more times when he'd fly to Oahu. I actually remember when Aldrine called to tell me he got picked up as a Kanilea Sponsored artist. He was extremely excited about it, and said he would be designing his own dream ukulele. I was green with envy. And I actually got to play the first prototype of his personal custom Kanilea shortly after. This picture was at Kakaako in late 2009: the instrument still has the original fretboard inlay, the narrower lower bout, and Grover tuners--before the upgrade to Gilberts.
Back then, he mentioned that he might collaborate with the Souzas to produce his own signature custom for ordinary ukulele mortals to purchase. And in early 2012, it became a reality as he
announced it on YouTube
. By then, I wasn't playing much anymore, so buying one was low-priority--especially since I was saving my money for other things.
But when I saw the opportunity to buy one in immaculate condition with no build-time wait, I did get nostalgic for the old days when I played ukulele every day, went to jam sessions with Aldrine, and had Suite 409 on repeat. And although I've only had this ukulele for a few hours now, it has lived up to everything I had hoped and more.
For me, this ukulele has a bit of sentimental importance. Five years has passed extremely quickly since I first started playing on a Tangi mahogany soprano while watching Aldrine's lessons on IamHawaii and his original dimly-lit "I'm Yours" cover. In that time, quite a few ukuleles have come and gone through my collection. I've graduated from high school...and then from college. And things have definitely changed for UU too: it has grown to many times its original size, Aldrine has been on several concert tours, and the video production quality by Aaron is higher than ever. And I've definitely made a lot of friends through this small four-stringed instrument. It's an honor to own the same instrument as the one who taught me how to play.
Aldrine Guerrero Signature Model Kanilea Custom Tenor (Specs from kanileaukulele.com)
Master Grade Premium Curly Koa Body (log #50)
Top and back Black binding
Birdseye Maple Wood inlay Rosette with black trim
Ebony Fret Board, Bridge and Head-plate
Sand Position dots (players side)
South American mahogany neck
Rounded back
NuBone nut and saddle
Bridge Pins (will upgrade these to Martin Ebony pins with abalone dots)
Slotted Headstock
Gilbert Tuners
Aldrine Character Custom Inlay (in sand on Fret Board)
Aldrine Signature Custom inlay (in sand on Headstock)
UV Curved high gloss Polyester finish
PegPal Active under-saddle pick-up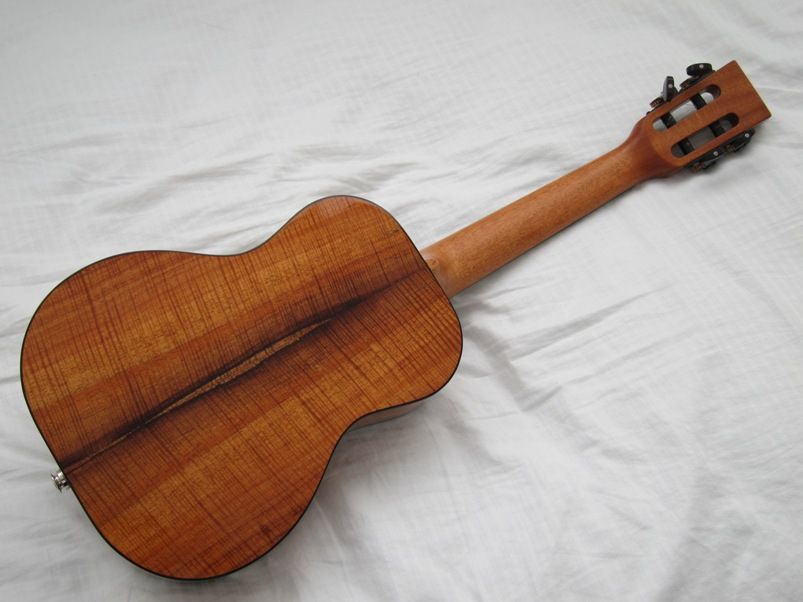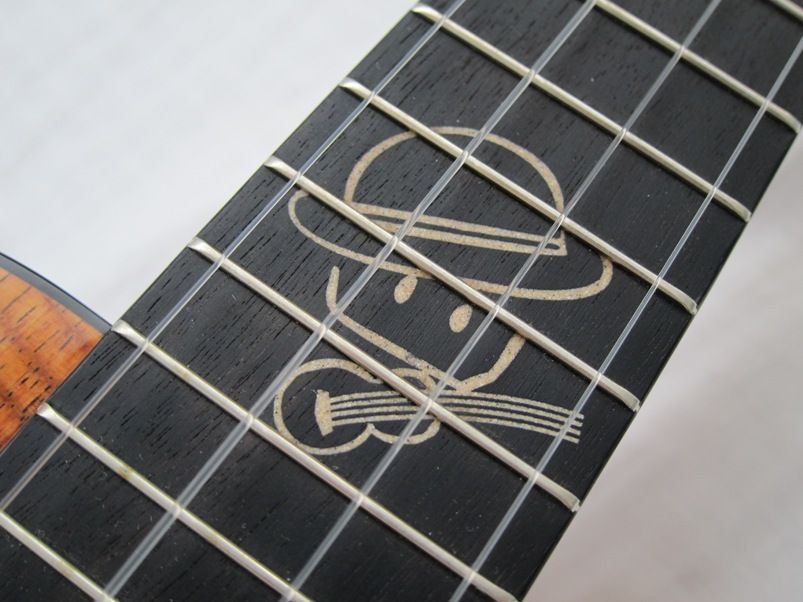 Last edited: