Joined

Sep 30, 2013
Messages

3,318
Points

36
If you've been a Seasonista for more than a few months you know by now that you quickly feel growing friendships and a sense of community. In the past, we have celebrated certain Seasonistas and its time to celebrate Lesley. Many of us know Lesley Fowkes (barefootgypsy) and know what she has brought to the Seasons. Lesley is a dear friend to many of us. She is a bright light with a beaming smile. A joy of a human being. She has a great love for the uke, she is a blogger, and she loved to tap dance. Here is a blog post about how she and the uke came to be.
https://lifesaukafrolic.blogspot.com/2012/03/my-first-ukulele-hero-joe-joe-brown.html?m=1
Watch this cute video she did for a past season. She was able to talk her husband into joining in and even though she is letting him steal the show you can see how wonderful she is.
Lesley Fowkes has fallen ill with MND/ALS and is now unable to do the things she loved to do. She no longer can tap dance or get around without assistance and she had a bad fall and has injured her fingers so she hasn't been able to play her ukulele lately (although she did say she might try and add a song or two this week if she can). She loves the George Formby style, and she is a talented songwriter as well as a ukulele player. I asked Lesley if she wanted to write a brief message explaining the story of her illness. She sent me this link to share her story.
https://www.justgiving.com/fundraising/lesley-fowkes
What is MND/ALS?
https://www.mndassociation.org/about-mnd/where-do-i-start/what-is-mnd/
I would like to dedicate this week to her and bring songs of encouragement and songs to uplift her spirits.
So this weeks assignment is to bring -
#1 – songs of encouragement, or happy and uplifting songs.
#2 – George Formby songs.
#3 – Any song that Lesley's has covered on her channel including her originals.
Lesley has two channels on youtube. Please check them out.
https://www.youtube.com/user/songandancedaisy/videos
here are some originals from that channel
https://www.youtube.com/watch?v=SC3e8e-_v0k&list=PL8K6Wu_Cg-hGx0slknmawMfZoCUnf4qGp
Here is another channel for her originals
https://www.youtube.com/channel/UC0HMRkh04Wb-G2XYzXtDe1A/videos
Here is her blog dedicated to the ukulele.
https://lifesaukafrolic.blogspot.com
Two Prizes

-
#1 - Lesley is offering to send someone her green ukulele that she has used at her summer house! I have asked her to personalize it with her signed signature for you
.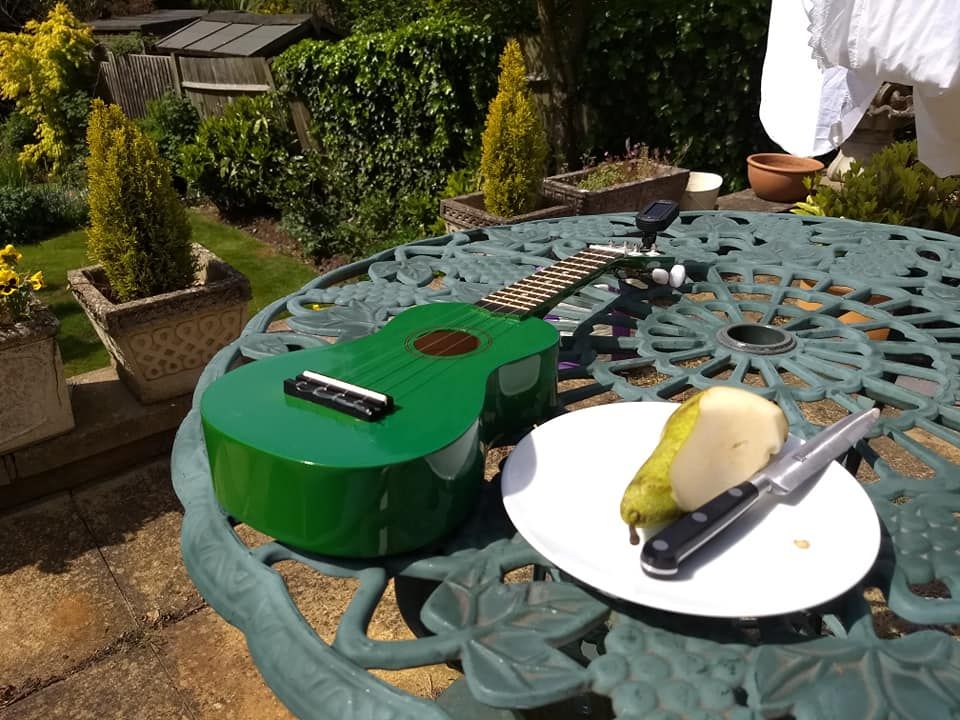 #2 - For every song we get this week I will donate $1 to her MNDA page that helps and supports the needs of those suffering. The MNDA has come to her aid in helping to make her home more accommodating. It also uses funds to help with research in hopes of one day finding a cure.
*Season starts Sunday, July 8th at 00:01 Hawaii time, and ends Sunday, July 15th at 12 PM.
*Comments wil be left on youtube as I get to them. I will add them to the playlist as we go.
*Ukulele prominent.
*Mention or list your entry is for SOTU 334
Let's not forget about SOTU333, Ylle's fantastic 3 theme that overlaps one day with this theme!
Playlist
Last edited: